Looking for a way to promote your church without breaking the bank? Thankfully, you don't have to! Some of the most effective online marketing is absolutely free, and we're here to fill you in. Check out our tips on how to grow your church using Google's free online advertising. 
Is Google Free Advertising Effective? 
Google is a powerful tool to reach more people with the gospel. In fact, Google is the most visited website across the internet and 46% of all Google search terms are location specific, such as "churches near me." By using Google's free advertising, your church could show up in those search results and attract new visitors. And the best part? It's totally free, making it the simplest, most cost effect way to spread the word about your church. 
Set Up a Google Business Profile 
Increase your church's online presence by opening a free Good Business Profile (GBP) account for your church. A Google Business Profile (formally called Google My Business) is the local listing you see when googling restaurants, businesses, shops etc. These profiles show business locations, hours, contact information, photos, and customer reviews. 
With a GBP, your church will not only show up on Google Maps, but you'll give a great first impression to anyone searching for a church. Plus, when potential visitors see your GBP, they'll know your church is legitimate.
To set up a Google Business Profile for your church, you'll first need to login into a Google account. We recommend using a church Google account so other church staff can manage your listing. For simplicity's sake, it's helpful to use the same Google account as your church's YouTube channel.
Now it's time to visit the Google Business Profile and sign up for a free account. Google will walk you through a series of prompts to collect your information about your church, including its name, location, description, and phone number. When describing your church, make sure to include keywords that will help people find your church, such as your denomination. Once you've finished inputting your information, it's time for Google to verify your church. Google can verify your account via phone call, text, email, or video. 
Once you're verified and have access to your Google Business Profile dashboard, it's time to start optimizing your profile. Increase the visibility of your GBP by posting frequent updates and photos, requesting and responding to Google reviews, and engaging with visitors in the live chat and Q&A section. Google Business Profile is not a one-and-done thing. You'll want to log in to your account a few times a week to post updates, manage holiday hours, add new photos, and respond to messages. 
The possibilities of free marketing are endless with a Google Business Profile. For a complete GBP checklist, download our free Google Grant Strategy Guide.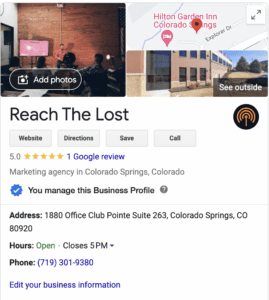 List Your Church on Local Directories 
Google looks to hundreds of other online directories when pulling information, so it's important that your church shows up in local directories other than Google. Plus, if Google consistently sees your church name and information listed online, they'll deem your church a trusted, credible organization. 
When listing your church, make sure that your church name, address, and phone number are consistent across all citations. Contradictory information can hurt your church's ranking on Google. 
We know it can be time-consuming to submit your church's info to a ton of online directories. That's why a lot of churches choose to outsource citation management. We're here to help! Our listing and citation service can take care of it all for you, so you can save time and focus on what really matters. 
Take Advantage of Google Ad Grant for Nonprofits
Take your church's online marketing to the next level with Google Ads. While Google Ads is not a free service, Google offers free advertising to eligible nonprofits. 
To apply for the Google Ad Grant, make sure your church has non-profit status and meets the other Google Ad Grant requirements. Once you're approved, you'll have access to $10,000 of in-kind advertising every month. Use your free credits to run text-based ad campaigns that show up in Google search results when people search keywords related to your church. 
For example, a church that offers a program for moms of little ones can create an ad campaign that targets women using the search term, "activities to do with kids." Through Google Ads, you can meet your community members where they're at and connect with people who have never stepped foot inside a church.  
Optimize Your Website for Local SEO 
Local SEO is the free digital marketing gift that keeps on giving. By optimizing your church website for local SEO, your content is more likely to appear on the Google search results page for local search terms. To optimize your church website for local SEO, you'll want to add location-specific keywords to the right places on your site, like landing pages, headers, and meta descriptions. 
Implementing schema markup or structured data is another way to optimize your church website for Google. Schema markup is a vocabulary that helps Google understand your site. For example, by adding schema markups to your church website, you'll help Google find your church's contact information, church service times, upcoming events, and other information relevant to your organization. Thankfully, Google has a free structured data generator to help you add schema makeup to your website's code. 
Google isn't the only source of free advertising for your church. There are many other free ways to promote your church online and offline, such as social media and community events. It's all about spreading the word and getting people excited about what your church has to offer. 
How Can We Help? 
At Reach The Lost, we help churches maximize their Google Ad Grant for further kingdom impact. We use your $10,000/month to guide people from the Google search page to your church. 
To learn more about the Google Ad Grant program, check out these articles: