Google Ad Grants for Churches
Exponentially increase Kingdom impact with the $10,000/month Google Ad Grant.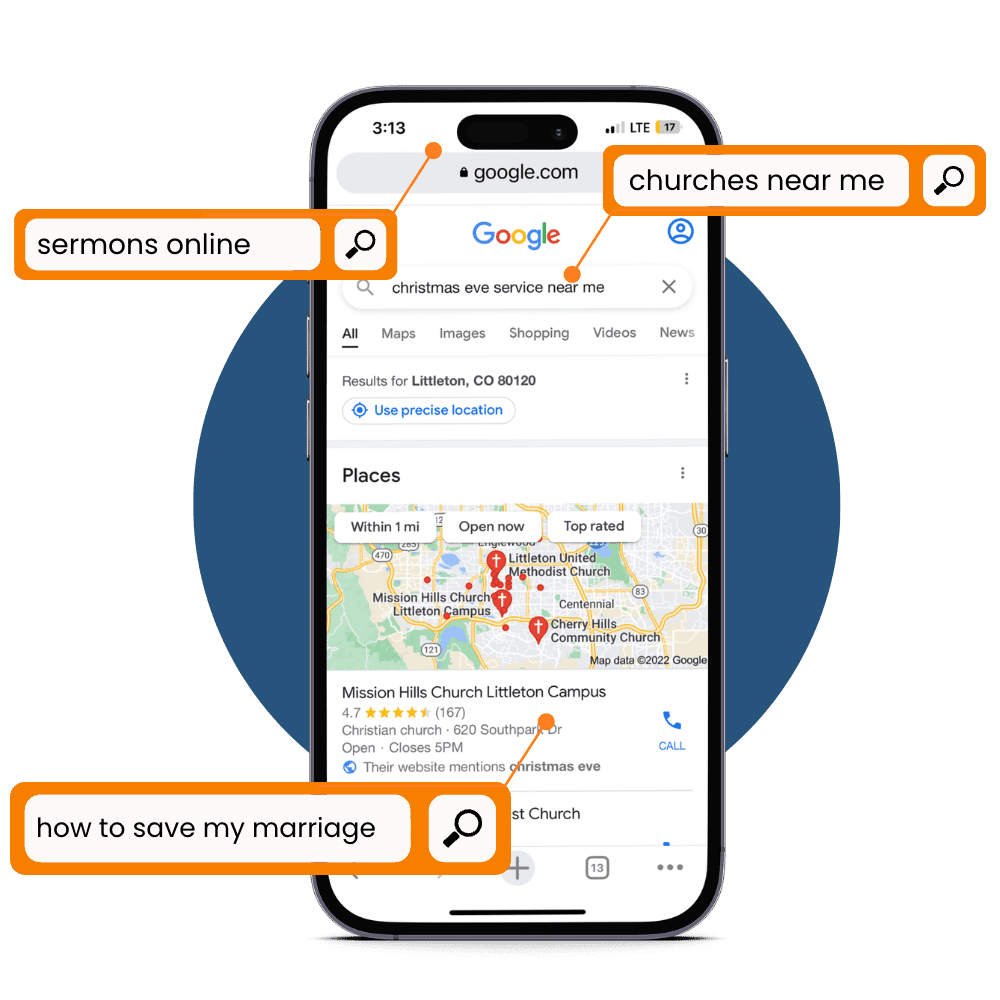 How to find a divorce lawyer
How to parent teens
What to do if my husband looks at porn
How to save my marriage
Best way to commit suicide
If the local church is the hope of the world, you should be giving them the answers they're searching for.
People are turning to Google for help with their broken marriage, hurting families, and lonely lives. At Reach The Lost, we set your church up to target those searches, give them answers, and connect them with the hope of Jesus.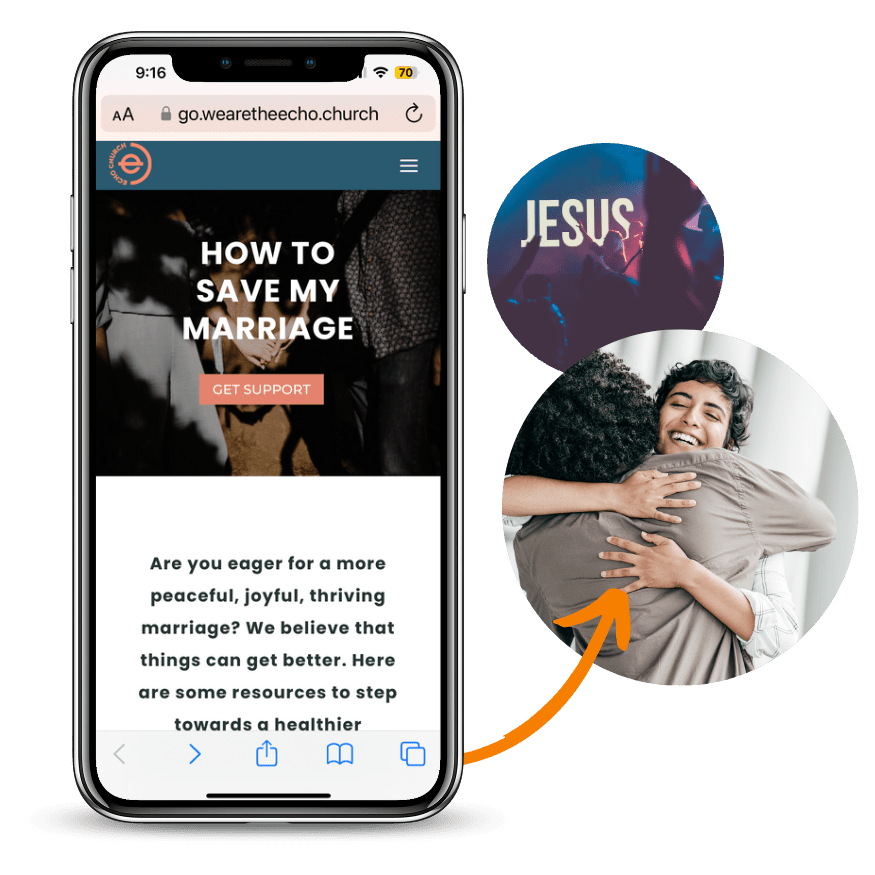 how we use the google ad grant
We build online pathways that get people from Google to your church.
Our online pathways use people's questions and the free $10,000/month Google Ad Grant to bring people from the Google search page to your church. Our customizable pages are intended to identify people's major search topics in your area, answer their questions, and invite them to your services, ministries, and events.
A year from now, who will you be reaching?
Your $10,000/month grant can let you find an entirely new audience in your local area.
Hundreds of people are searching "church near me" in your area. The Google Ad Grant allows your church to appear as a sponsored result in the top 3 positions, bringing new visitors to your church.
People have questions, and the Church has answers. Our Pathways give you customizeable landing pages that target popular searches, answer their questions, and invite them to your church or ministries.
People are looking for the ministries of your church. The Google Ad Grant can allow your church to appear 1st on the results page for searches like "MOPs Group" "DivorceCare" or "marriage support". 
Families are always looking for events in their area. You can use the Google Ad Grant to drive more people to your Easter Egg event, Fall Festival, Christmas Eve Services, and more.
1
Book a Call
When you book a call, we'll talk about your church's mission and vision. We'll present a strategy that fits your goals.
2
We Get Your Grant
We'll do your grant application, set up, and build your custom, ongoing strategy to reach more people.
3
Welcome Visitors
We'll bring them to your church, you welcome them, get them connected, and give them hope.
Not ready to book a call?
Download our digital pricing guide.
Valley View Christian Church
I've been working with Rochelle & RTL for several months and it has been such an amazing experience! Our church (Valley View Christian Church) has seen impressive growth and interaction with our Google Ads. Rochelle and the team actually CARE about the ministry that's going on within our church and really give that personal attention to give us the best support!
Woodlands Church
I had a new member class recently ask about digital outreach and digital strategy, and I was able to lean on what you guys do with the articles as part of our digital outreach and meeting people's needs.
Greenwood Community Church
"We're seeing more and more new families visit on the weekends. What you guys are doing with Google Ads is working."
Chapel Hill
"We've had a HUGE increase in folks viewing our worship service after the fact since using you for the Google Ad Grant."
How could this work for you? Download our case studies from a 100, 1,000, and 25,000-person church.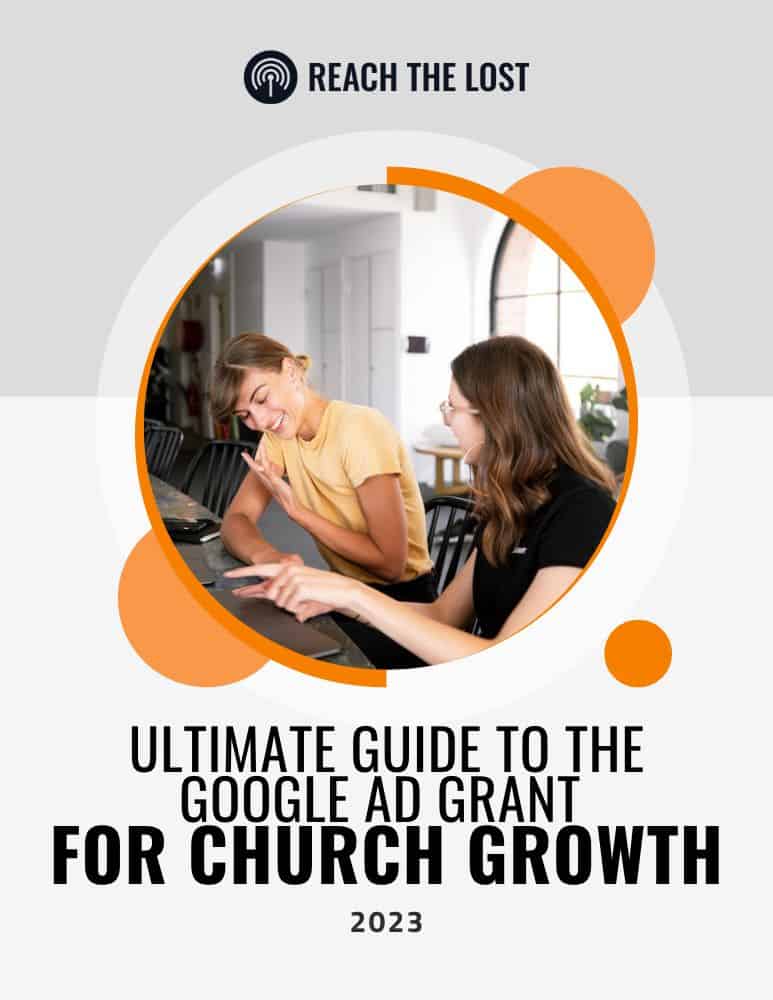 Don't miss out on the free, $10,000/month Google Ad Grant. Learn how to get and leverage it with our free guide.
Are you ready to invite more people to church?
Let's jump on a call. We'd love to hear more about your church, what God is already up to, and collaborate to see how the Google Ad Grant, SEO, or social media ads could come alongside your ministry and help you reach more people.
We're a small team with backgrounds in church communications, nonprofit fundraising, and for-profit marketing that started Reach The Lost to bring excellent digital advertising to churches.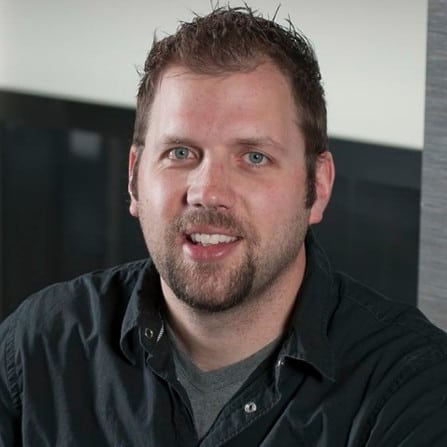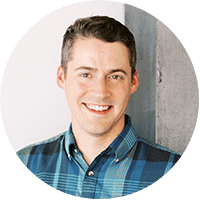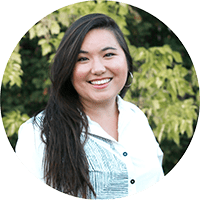 Maddie Hsin
Operations Marketing Manager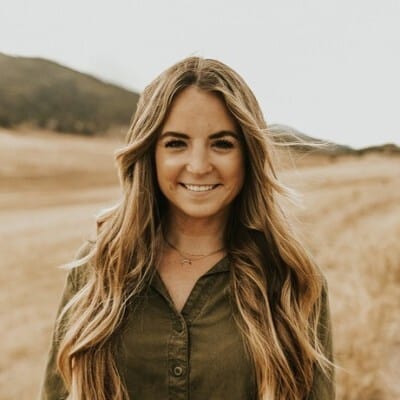 Corinne Lantis
Church Relationship Manager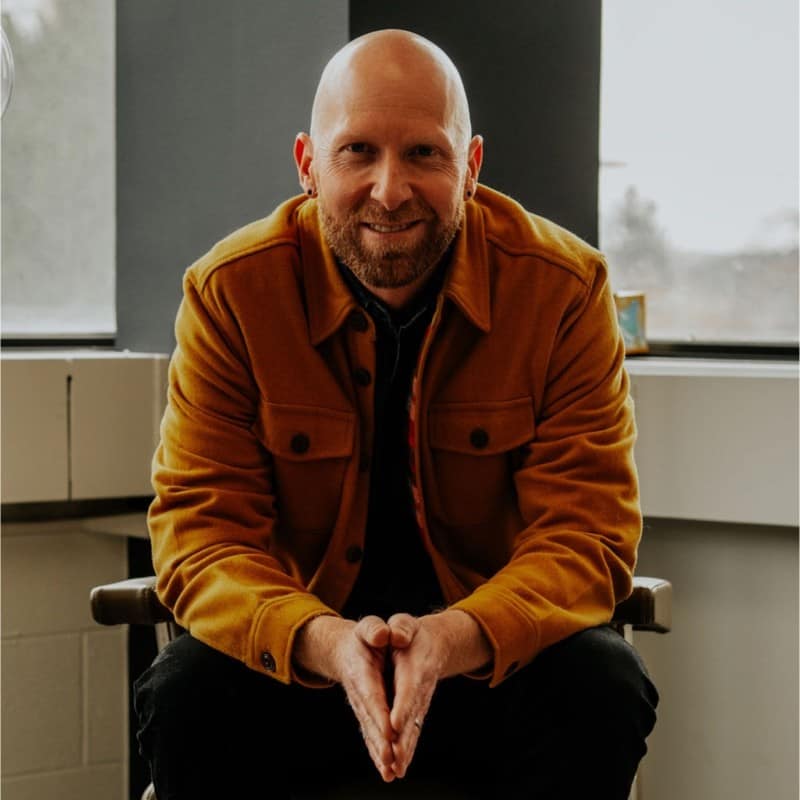 Church Google Ad Grant Management
Our system allows for greater use of the Google Ad Grant to meet your community's needs and have a meaningful connection with your church.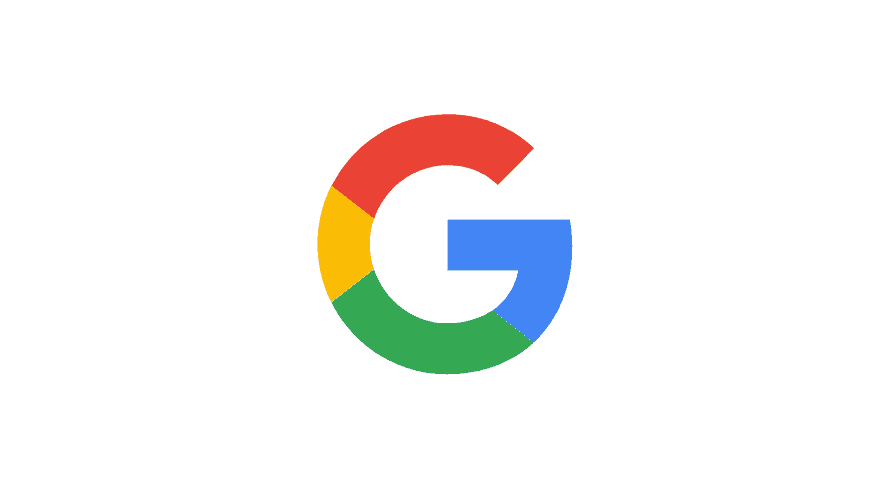 What is the Google Ad Grant
As a nonprofit, you can receive $10,000 in in-kind advertising dollars each money. This money can be used to advertise on the Google search results page, which could bring up to 6,000 people to your website each month.
How Google Ads Work
The ads you see at the top of a Google search are called Google Ads. The businesses that place these ads pay Google each time someone clicks on them. Nonprofits receive $10,000 per month from Google to spend on these ads.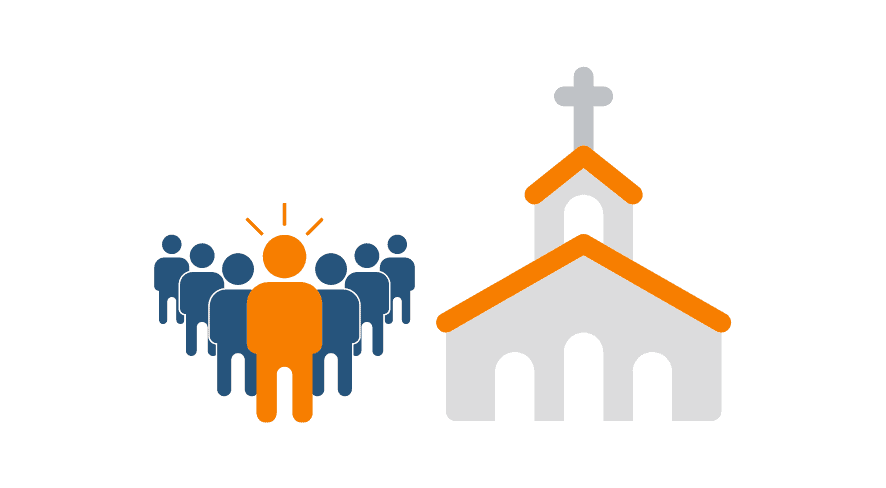 Potential Kingdom Impact
90% of people are using Google to find answers to their questions.
They are searching for: best churches near me, date night ideas, why should I trust the Bible, parenting advice, and more.
You can't beat Psychology Today or The New York Times to be at the top of the organic search results. But you can use the Google Ad Grant to be the top result to these questions through Google Ads.
Getting the Most Out of the Google Ad Grant
"We had the Google Ad Grant, but we were
only able to spend $300-400 each month."
– Our clients, all the time.
We help you maximize the full $10,000. Our team of Google Ads experts and content strategists create ads and campaigns based off your goals and our in-depth keyword research. We then continually optimize the campaigns to maximize the grant.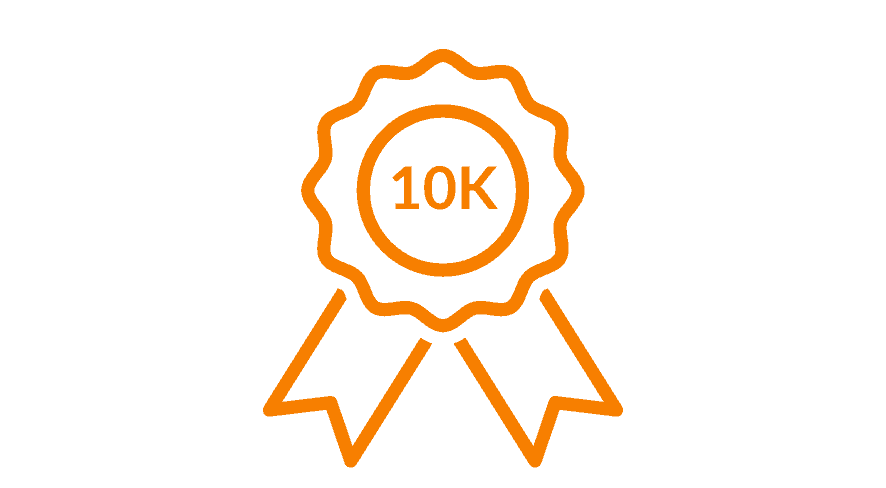 What is the Google Grant?
The Google Ad Grant is a free $10,000 per month in free ad spend given to registered nonprofits through Google for Nonprofits.
Are Google Ad Grants worth it for churches?
YES! The grant will give you $10,000 to reach your community, but you need a strategy to use all of it. You can use the grant to reach more people looking for a church, moms looking for support groups, couples looking for marriage resources, and more.
Who is eligible for the Google Ad Grants program?
Any organization with a 501c3 status and is not an educational institution meets the eligibility requirements. Google requires that you sign up for a google ads account and complete the application to receive grant money.
Do I have to learn about conversion tracking, quality scores, and click through rates?
Maintaining healthy metrics allows the grant to grow and continue performing. You can do it yourself, Google has lots of courses to teach you. However, it will take a lot of time invested to learn, and more to continue maintaining the grant. We come alongside you so you can focus on other things.
Does this really have Kingdom impact?
Churches are spending thousands of dollars a year on postcards that lack measurable impact.
By using Reach The Lost and the Google Grant, you can get your church out into your community in measurable ways. Target people that are ready for your church. Track impressions, clicks, interactions, form fill outs, and more.
Our partner churches receive dozens of connect cards, prayer requests, and more. They know the real names of people the Grant has connected them with.
How much more work would this add for me?
Working with Reach The Lost keeps work off your plate. We handle all content development, technical implementation and maintenance. You meet with us once every 4-6 weeks to give us updated event advertising needs and approve published content, we handle the rest.
How can I measure results?
We give you access to a robust analytics platform to give you full transparency into ad group performance. We'll walk you through it regularly, and we monitor perforamance weekly to make necessary adjustments so you get the best results possible.
What sort of commitment do I need to make?
Churches are on a month-to-month commitment, so there is no contract required. However, Google works like a primed pump, so we ask for an initial 6 months to ensure you can see full results.
Will this work in my church's city?
People in your city need hope, no matter where you live. We work in a diverse collection of cities, and pay attention to publish content that meets the unique needs of your community.
Are churches eligible for the Google Ad Grant?
Yes, any organization with a 501c3 status and is not an educational institution meets the eligibility requirements. Google requires that you sign up for a google ads account and complete the application to receive grant money.
How do I get the Google Ad Grant?
To get the Google Ad Grant, you'll need to:
1. Apply for a Google for Nonprofits account at google.com/nonprofits.
2. After you're approved, complete the Google Ad Grant application in your G4NP account.
3. Wait 2-14 business days and activate the Google Ad Grant.
4. Set up ad groups, campaigns, conversion tracking, and keywords.
There's a lot to do.
We can help.

We're a team with a heart to partner with churches and a system to see churches grow.
We help churches and nonprofits with Google Grant management, SEO work, church website design, and campaign development, all at affordable rates.