Google Ad Grants for Churches
Exponentially increase Kingdom impact with the $10,000/month free Google Ad Grant.
If the local church is the hope of the world, you should be giving them the answers they're searching for.
People are turning to Google for help with their broken marriage, hurting families, and lonely lives. At Reach The Lost, we set your church up to target those searches, give them answers, and connect them with to get the hope of Jesus.

How to find a divorce lawyer
How to parent teens
What to do if my husband looks at porn
How to save my marriage
Best way to commit suicide
Our secret weapon: Google is giving churches $10,000/month of free traffic to help you reach the lost.
3 Pillars to Google Ad Grant Ministry
We have 3 strategies for getting the most out of your Google Ad Grant. Reaching people searching for a church, answering questions they search Google for, and reaching people looking for an event like yours.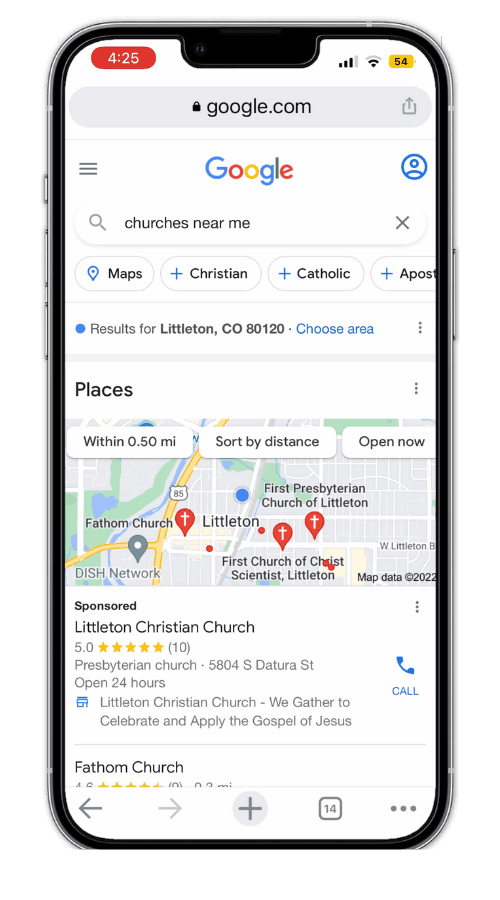 Reach people searching "churches near me".
600,000 people this weekend will use Google to find a new church to visit. Ranking for these searches is one of the easiest paths to seeing more visitors. 
Good SEO is a necessary long-term investment, but the Google Ad Grant can help your church top the search results immediately by appearing as a sponsored listing.
Reach people's felt needs.
Our semi-custom landing pages keeps all the work off your plate, and our team works with you to make sure everything looks and sounds like you.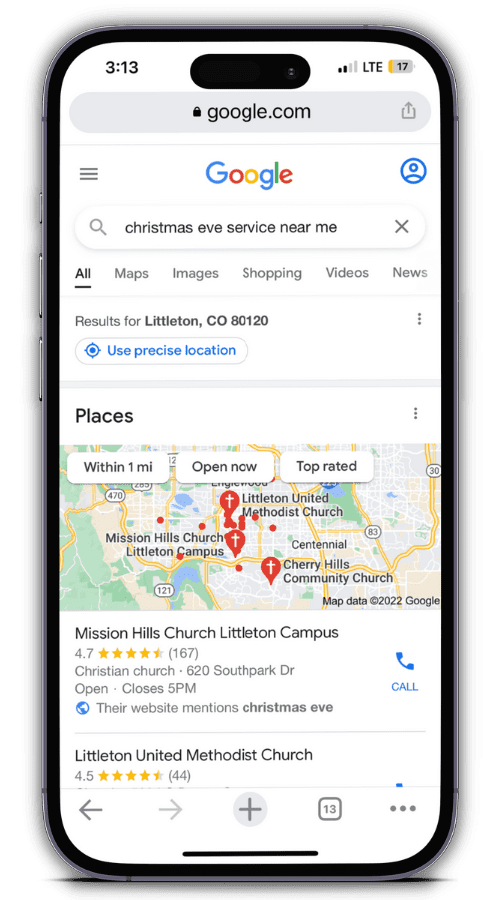 Reach people with your events and ministries.
People are looking for moms groups, bible studies, family activities, and more events and programs that you are already doing. The grant, along with our team of experts, can create ads that promote your existing ministries and outreach events.
Get a free Google Grant Strategy Guide
Get 4 campaign ideas to grow your church

Maximize the Grant
Most churches have a hard time spending more than $500/month. Our churches average $6,000/month in free ad spend.

Outreach for Kingdom Impact
Most churches have a hard time spending more than $500/month. Our churches average $6,000/month in free ad spend.

Custom Fit to You
We work with you to make the grant work for your churches goals, and our felt-needs pages are customizeable, so they are a seamless fit for your church.

Compliance
Google has dozens of rules, and if you break them, they'll shut down your grant. We'll monitor your compliance to ensure you keep getting results every month.

Low Monthly Commitment
We handle everything for you. Just meet with us for 15-30 minutes each month to update us on promotion priorities, and we'll take care of the rest.

No Limiting Contracts
Our churches work month-to-month, so you aren't locked in. We recommend starting with 6 months to give the grant time to mature, but we're confident we'll love working together. Most of our partners have been with us over a year.
The Google Ad Grant for Real Kingdom Impact
Don't spend the grant just to spend the grant. Our mission is to serve churches personally with customized ads and landing pages that are specifically designed to reach the top questions in your area and create an opportunity for a meaningful connection to your church.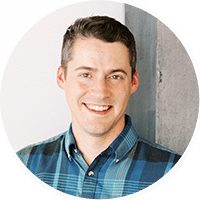 Get Free Advertising For Your…
Easter & Christmas Services
Weekend Services
New Campus Launch
New Service Time
Food Bank / Community Center 
Marriage Ministry
Children's Ministry
Celebrate Recovery
Financial Training
Student Ministry
Women's Ministry Event
Men's Conference
Vacation Bible School
Parenting Event
Mom's Groups
What is the Google Grant?
The Google Ad Grant is a free $10,000 in free ad spend given to registered nonprofits. 
Does this really have Kingdom impact?
Churches are spending thousands of dollars a year on postcards that lack measureable impact.
By using Reach The Lost and the Google Grant, you can get your church out into your community in measureable ways. Track impressions, clicks, interactions, form fill outs, and more.
Our partner churches receive dozens of connect cards, prayer requests, and more. They know the real names of people the Grant has connected them with.
How much more work would this add for me?
Working with Reach The Lost keeps work off your plate. We handle all content development, technical implementation and maintenance. You meet with us once every 4-6 weeks to give us updated event advertising needs and approve published content, we handle the rest.
How can I measure results?
We give you access to a robust analytics platform to give you full transparency into ad group performance. We'll walk you through it regularly, and we monitor perforamance weekly to make necessary adjustments so you get the best results possible.
What sort of commitment do I need to make?
Churches are on a month-to-month commitment, so there is no contract required. However, Google works like a primed pump, so we ask for an initial 6 months to ensure you can see full results.
Will this work in my church's city?
People in your city need hope, no matter where you live. We work in a diverse collection of cities, and pay attention to publish content that meets the unique needs of your community.